As you know, we've missed so much. But in this post we're covering all that is the fantastical phenomenal Beyonce Knowles :-)

Kelly's B'Day Party Bey & Mechelle threw for her




40th Annual NAACP Awards Performance "Halo"...


Outstanding Artist Award Winner...







Mesa Arts Academy



NBA All-Star LeBron James, Rapper JAY-Z and singer Beyonce made an appearance at the center Saturday to donate $50,000 worth of musical instruments and a $10,000 check.


The donations come from a partnership with Sprite-Green.

"This is the kind of thing you dream of," said Ramon Elias, President and CEO of the Boys and Girls Clubs.

The Boys and Girls Clubs operate the Academy near 6th Avenue and Robson in Mesa. It is a K-8 charter school offering studies focusing on the arts.

The donation comes as budget cuts loom. Elias says he is not sure how those cuts will impact the school yet.

"While these kids have the passion, we need to capture their attention," said JAY-Z.

The kids had their pictures taken with their celebrity guests and they even performed a couple of musical numbers as part of the event.

James and JAY-Z are in the Phoenix area in conjunction with the NBA ALL-Star Weekend.

They'll host their annual Two Kings Dinner event later Saturday evening.

"Even in this difficult economic climate, it's important to recognize the importance and value of philanthropy at the corporate level,'' Blanco said in a news release.

Mesa Arts Academy is a free charter school that integrates the arts into a rigorous academic curriculum for kindergarten to eighth grade students.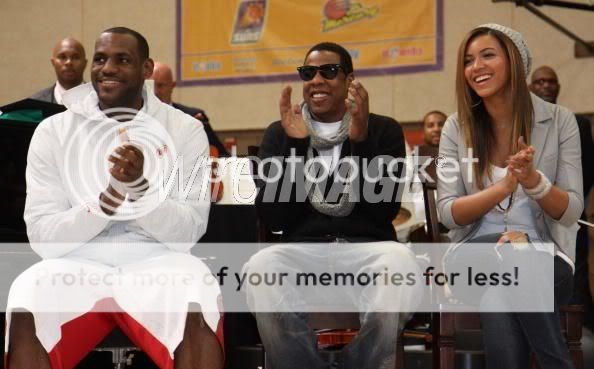 click here to watch video of the children performing for Bey Jay & LeBron:-) so cuyute


The All Star Game...








3rd ANNUAL TWO KINGS DINNER

PHOENIX -- Here are some sights and spoken words from the All-Star festivities:
LeBron and Jay-Z: The interview
What can bring Jesse Jackson, Kobe Bryant, Chris Paul, Mark Cuban, Spike Lee and Fortune 500 CEOs together under one roof? An NBA All-Star Weekend party hosted by Jay-Z and LeBron James.
Free fine dining helps, too.
If the third annual Two Kings dinner and afterparty were any indication, the All-Star festivities are recession-proof. With help from sponsor Sprite Green, the swanky affair at the opulent Phoenix Hotel in Scottsdale served up a three-course meal featuring a petite filet, jumbo prawns and a chocolate silk mousse made with port reduction. (Port reduction!)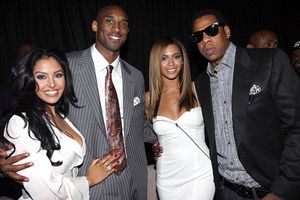 Getty Images
Kobe and wife Vanessa joined Jay-Z and Beyonce for a star-studded photo.
It also brought out some of the nation's finest reporters, like the celebrity-rag writer who wanted to know if Jay-Z would like to compare himself to Gandhi. (Um, no, he did not.) ESPN.com, as high-minded as any of 'em, was there, too.
ESPN.com: You guys are tight and all that, but like they say, opposites attract. For example, Jay-Z, I hear you have no game?
Jay-Z: Whoa, whoa, whoa.
I'm just sayin', it's what I hear.
Jay-Z: I can beat you.
LeBron: Yeah, he can definitely beat you.
Jay-Z: Definitely. Like 100-1.
LeBron: (Laughs) Definitely.
Another example: Jay-Z is a legend in his field. But LeBron, Chris Paul tells me you have zero musical ability. Like, when you sing, glass breaks.
LeBron: 'Cause all I do is recite [Jay's] lyrics, the greatest lyrics in the world.
LeBron, everyone knows you're a great dancer. Jay, they say you're not so good.
Jay-Z: Yo, what's wrong with you?
LeBron: Uh-oh (keels over in laughter).
Jay-Z: What happened? What did I do to you, man?
LeBron: Lemme get in the middle.
But you Two Kings are powerful. I mean, you got a man elected president. That was all you, right?
LeBron: I don't know if it was all us.
Jay-Z: Well, the guy did something. The guy is pretty smart. We just supported what was already happening.
You also had a great event today, donating musical instruments to a school in Mesa, and making the kids cry. You like making kids cry?
Jay-Z: No, I don't make children cry. It was tears of joy and happiness. (Laughs) Naw, but it was beautiful. It's fantastic anytime you can reach the heights in our respective fields, but we've never forgotten where we come from. You know you made it when you go into a school like that and affect people's lives.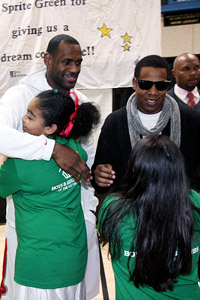 Johnny Nunez/Getty Images
LeBron and Jay-Z received hugs and tears after giving 150 musical instruments to a school in Mesa, Ariz.
LeBron, rumor is you might participate in the slam dunk contest next year?
LeBron: It's up in the air still, but I'm looking forward to it being in Dallas next year. We'll see what happens. I may be out there, though.
Jay-Z, your top five All-Stars?
Jay-Z: Wow. I would put CP3 at the 1. I'd put Kobe at 2. I'd put LeBron at 3 and Dwight Howard at 5. See, the 4 is difficult, because you have a lot of talent there. Man, with that team, I got enough defense, so I need a shooter. I'll probably put Dirk at the 4. I would say Kevin Garnett, but I need someone to hit that jumper.
LeBron, top five hip-hop all-stars?
LeBron: Jay, Nas, Biggie, Tupac, Scarface.
Jay-Z: Oh, you can't beat that five. That's unbeatable. How you gonna beat that?
Finally, it's Valentine's Day. And you guys are together.
Jay-Z: What is your problem? Do you have a date? We gotta get you a date.
LeBron: Yeah, we'll find you someone.
Jay-Z: That's the problem here.