People Exclusive
Originally posted Friday February 27, 2009 07:50 PM EST
Photo by: Lester Cohen / WireImage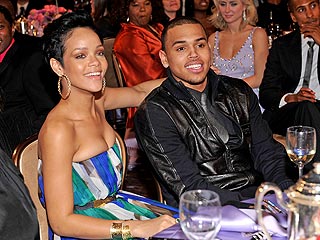 Rihanna
and
Chris Brown
are back together, PEOPLE has learned exclusively.
The pair have reunited almost three weeks after Brown, 19, allegedly battered the "Umbrella" singer on Feb. 8, a source tells PEOPLE.
"They're together again. They care for each other," says the source. The on-again couple are currently spending time together at one of Sean "Diddy" Combs's homes, on Miami Beach's Star Island.
Adds the source: "While Chris is reflective and saddened about what happened, he is really happy to be with the woman he loves."
In its latest issue, PEOPLE reports that Brown called Rihanna on her 21st birthday one week ago. "He called to wish her happy birthday," a source told the magazine. "They've reached out to each other. It's been mutual."
Brown was booked by LAPD for making criminal threats but
the case
has not yet been presented to the District Attorney, who will ultimately determine which charges, if any, will be prosecuted.
Sooo... What Y'ALL speeches
a
bout

ME NOT CARING 'BOUT THE HO & HER WHORRIFIC INJURIES

gone be about now???
HOW ODD
...
That's right, folks,
Rihanna
and
Chris Brown
are back together
. They're currently vacationing together in the Miami home of
Sean "Diddy" Combs
. Brown's legal and personal problems seem a million miles away as the singer rides around on a jet ski.
Rihanna reportedly arrived four days ago and the couple have been talking since Brown contacted her on
her 21st birthday
. A source tells
Us Weekly
, "She's not listening to anyone. And of course Puff got involved in this." How "of course?" Is he a licensed relationship counselor, or what?
Ronald Fenty
, Rihanna's father,
responded to the news
by saying, "I love my daughter with whatever road she takes. I'm behind her win or lose. I will be supportive. If that's the road she wants to choose, I'm behind her."
Good Lord, if
attempted murder
isn't grounds for breaking up, I'm pretty sure I don't know what is.

Gallery Info: Chris Brown
on a jetski after being reunited with girlfriend
Rihanna
at
Diddy
's $50 million dollar Star Island mansion the previous night
Pictures also courtesy of Socialite Life
*
a
s seen on another site*
from rihannadaily.com
Ursula and Marielle (Rihanna's stylists)
Leandra and Melissa (Rihanna's bffs)
Jennifer (Rihanna's P.A.)
DIDDY'S MANSION
His mom